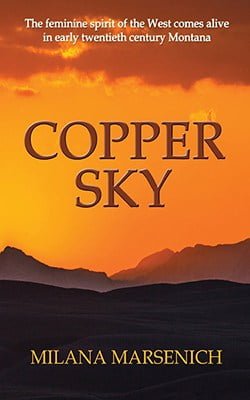 Available in paperback and Kindle!
The feminine spirit of the West comes alive in early twentieth century Montana.
Set in the Copper Camp of Butte, Montana in 1917, Copper Sky tells the story of two women with opposite lives. Kaly Shane, mired in prostitution, struggles to find a safe home for her unborn child, while Marika Lailich, a Slavic immigrant, dodges a pre-arranged marriage to become a doctor. As their paths cross, and they become unlikely friends, neither knows the family secret that ties them together.
Book Details
Paperback: 344 pages
Publisher: Open Books (April 4, 2017)
Language: English
ISBN-10: 0998427462
ISBN-13: 978-0998427461
Product Dimensions: 5 x 0.9 x 8 inches
Shipping Weight: 13.6 ounces
I highly recommend Copper Sky

Maggie Plummer, author of Spirited Away - A Novel of the Stolen Irish and Daring Passage: Book Two of the Spirited Away Saga

"I highly recommend Copper Sky to anyone who enjoys reading beautifully written literary fiction." 

"Splendid debut"

Sid Gustafson, author of Swift Dam

"This splendid debut carries readers into the textured dimension of Butte's vivid and perseverant heart."

If you love Montana's rich and ghosted past, don't miss this read.

Debra Magpie Earling, author of Perma Red

"A dazzling heartfelt epic of friendship and loss, love and renewal...If you love Montana's rich and ghosted past, don't miss this read."

A definite must-read.

Montana Senior News

Copper Sky is a well-researched, engaging story with strong women characters who reflect so much of Butte's personality—then and now. A definite must-read.

A riveting story of darkness and redemption…

Phil Condon

"A riveting story of darkness and redemption..."

~Phil Condon, author of Clay Center, Montana Surround, and Nine Ten Again

A lovely and elegantly written book

Mara Panich-Crouch, bookseller at Fact and Fiction Books

"Copper Sky" captures a part of Butte that I have not had the opportunity to connect with in literature. By focusing on lesser known figures in the mining town's history, Marsenich has ignited in me a new interest in Butte history. It is refreshing to read a well-written piece of historical fiction based in Butte that focuses on female characters and the '-ichs' of Silver Bow County's past.

Extraordinary characters exquisitely drawn!

sunshinescribe

In Milana Marsenich's Copper Sky, the first poetic paragraphs hint at all that is to come in this slice-of-life homage to one of Montana's most notorious towns. Dropped onto the winter streets of Butte, I felt the biting wind and smelled the signature scents of "pasties, polenta, povetica, calzones and spring rolls". I saw the homeless, white dog make his rounds like any other day. Except that this particular day brings life changing tragedy––the 1895 warehouse fire and explosions––which orphans two sisters, and the boys who become their 'brothers' at the orphanage. Others who care about them are powerless to stop the trajectory of these young, fragile lives.

Marsenich paints early 20th century Butte through the eyes of those who manage to survive it day to day. In an environment this volatile and complicated, bonds formed across ethnic and class lines can become precious commodities or enslaving exploitation. To become friends, Marika and Kaly (the orphaned sister), must transcend the Serbian taboos of Marika's family and the shame of Kaly's livelihood. In doing so, they stumble onto family secrets that liberate "the orphan-siblings" from the stranglehold of their traumatic past. But will they escape? Marsenich, a raconteur of the highest caliber, kept me in suspense until the last page. I eagerly await her next novel.

This is a beautifully written story…

Amazon Customer

I love to read a book set in a time/culture that I do not know and peopled with characters that I can connect to. This book hits both buttons. Though I have spent time in Montana and think of myself as reasonably knowledgeable about American history, I had no idea there was a core of Eastern Europeans (from Montenegro!) in Montana at the turn of the 19th century. Kaly's story is heartbreaking and only too likely; her devastating childhood, thwarted attempts at a normal life, inability to commit to a loving relationship … all ring true. Marika's desperate yearning for independence, at a time when women were expected to be submissive, is complicated by her respect for her father and desire to honor his wishes. And, just because Michael seems like a good man, that doesn't mean she should automatically fall in love with him.

I am really impressed that this is the author's first published novel. Though there are certainly some areas where editing could have tightened the plot line, I am thrilled to have read Copper Sky and look forward to more from Milana Marsenich.

A Spellbinding Story!

Janice M. Myers

A peak into Montana's historic past when going to work every day in the copper mines was dangerous and unpredictable.
What must it have been like in a frontier mining town in Montana in 1917? How does one survive in such a dangerous place where there were no social safety nets if you couldn't work or couldn't escape your circumstances?

Milana takes you back to those times through the lives of two young women and the people in their world. You are instantly drawn into their stories and care deeply about what happens to them.
Milana's writing is expertly crafted as she shows you how her characters navigate through all that life throws their way. What choices would we make in those same circumstances?
I definitely enjoyed reading this book and highly recommend it to anyone who loves good writing and a heartwarming story.

Thrilling Adventure

Paul Falk, Author/Reviewer via Amazon

In her smashing debut novel, Milana Marsenich brazenly took me by the arm and whisked me back in time to the waiting arms of Butte, Montana. Turned back the hands of time to a little more than a century. One of my favorite time periods. This character-driven tale inflicted upon me the raw anguish and savage fury sketched upon many twisted lives in search of their elusive dreams. Most shattered. This well written narrative gathered momentum as the scenes gracefully skipped along the pages. A gentle surge of electricity filled my body with every passing moment. My heart skipped a beat to an ending well worth waiting for. Touched me deeply.

Gritty, Lyrical Literary Novel

MRP

A gritty yet lyrical slice of raw Butte life in 1917. Copper Sky takes the reader deep into the mining town's rowdy, twisting back alleys through the eyes of two unlikely female characters – a troubled, 27-year-old working girl from Butte's infamous red light district and a sheltered, 17-year-old immigrant from Montenegro. Author Milana Marsenich delivers a rare treat: authentic, well-researched Butte history told from a feminine perspective. Her richly textured story intertwines the women's lives, gracefully painting them against the vivid, violent backdrop of two real Butte tragedies: the Warehouse Fire of 1895 and the Speculator Mine Disaster of 1917. I highly recommend Copper Sky to anyone who enjoys reading beautifully written literary fiction.

My daughter was born in Butte, so the community …

Janet Y via Amazon

My daughter was born in Butte, so the community of Butte has been close to my heart for 40 years. Mining towns tend to have dramatic and colorful histories, and this is especially true for Butte. Milana Marsenich has done a riveting job of bringing to life for us one period of Butte's history. Her characters are richly developed, and the descriptions of the area and the events are fabulous. I have enthusiastically shared this book with many, many friends and family. I look forward to reading her next book!

Wonderful book that takes the reader into a strange world …

Dragon's Tale via Amazon

Wonderful book that takes the reader into a strange world that is at once old but new. The characters and the whole city of Butte Montana come alive in a story which will make you laugh, cry, feel like you would have liked to be alive back then and there and happy that you were not. The best novels create whole worlds that we get to share for a few hours. Milana Marsenich has created one that is well worth a visit.

A Must Read Debut Novel

adrianne hurtig via Amazon

Ms. Marsenich has written a fascinating,historically correct, fictional book on the lives of those living in Butte, Montana during the hay day of mining. Her characters come to life in such richness, you'll find yourself wondering how they are long after you've closed the book. A wonderful debut novel; well worth your time. Great for book clubs too!

It's better classified as psychological fiction with a feminist slant

Susan S. via Amazon

Copper Sky transports the reader to a copper town in the American West. However, this work of fiction by Milana Marsenich is a completely different sort of Western. While it's full of plenty of action, it's better classified as psychological fiction with a feminist slant. Kaly and Marika, both strong yet credible young women, experience a mysterious connection made clear by the end of the book. Both strive for better lives, though clearly Marika's world is more habitable than Kaly's. No one had it easy in the copper towns during the early years of the twentieth century. Mining accidents had become the norm, and many lives were tragically lost. This compelling narrative is so vividly described that it can easily be imagined as a movie. Brilliant characterizations and a deeply moving storyline result in Copper Sky being a total page-turner!

Copper Sky is a thing of beauty and a joy to read

Carol Carreau via Amazon

Lovers of Kingsolver and Patchett take heart! There's a new writer on the horizon. Copper Sky is a thing of beauty and a joy to read. It is a first novel, so it can seem a bit uneven at times, but overall this is a beautifully written work. I'm a picky reader, i will set a book down and leave it down if it bores or loses me. I gulped down page after page of this book.. I'm not sure I breathed during the last third of it. I fell in love with the characters and missed them as soon as i finished the last page. i can only hope for a sequel. Copper Sky is worthy of one, but even without a sequel... i'll buy other works from this writer. My husband picked it up and finished it last night. "Wow," was his first word. I liked it enough to send to friends. Put Copper Sky on your summer reading list.