I have been RV obsessed for many years. At first, I wanted a tent trailer. For over ten years, I dreamed about it, looked at tent trailers online and in person, and imagined how much fun it would be to sleep with the screens open and a friendly wind blowing through them.
When I finally bought a tent trailer, it was everything I had imagined. I loved it, and I hauled it around with a little van, from campground to campground and state to state. I set it up in wind, rain, and snow. Wherever I went, I was delighted to have my home with me.
One day, I got caught setting it up in a lightning storm in the dark in the Big Horn Mountains in Wyoming. That storm and a face-to-face with a moose scared me. After that storm and the wild moose, after towing the tent trailer for ten years, I decided it would be better to have a hard-sided RV.
With a hard-sided RV, I could just pull over after a long drive and climb into bed, storm, or no storm. Moose, or no moose. So, I obsessed about a motorhome for several more years.
I imagined something small and manageable. And as so often happens with the imagination, one day a small motorhome appeared. It sat out on Highway 35 near Flathead Lake, Montana with a "for sale" sign in the window. I pulled over and talked to the owners — a very sweet elderly couple — who thought I should have it. We worked out a plan, I figured out the money, and I bought it.
The 90-year-old gentleman, once a submarine commander, pulled his oxygen hose around the 2003 24 ft Starflyte Dynamax as he educated me on every aspect of that vehicle. By the time I took to the road, I felt well-schooled in small RV travel. There was much to learn, but I had a good foundation.
One of my friends said that driving an RV is like driving an earthquake. And it is. From the beginning, I'd said, "I have to drive that thing," emphasis on the word "drive." But then, attach a Honda CRV to the back of it; trust your GPS to find the best route from Kennewick, Washington to Bend, Oregon; and you might end up on Highway 14, on the north side of the Columbia River with the wind from hell. And not just a mild hell, the full fire and brimstone hell.
Talk about having to drive the thing. With the wind whipping the roughly 12-foot-tall RV one way, and (I swear) the little car the other way, I did a full workout just keeping that motorhome and car on the road. I was pretty sure that when I stopped, I'd find my tow bar twisted beyond recognition.
Give it up, I told myself, as I drove the Starflyte on that cross-country trip. Just go home and garden. Forget about taking your home with you. Find a home with land around it and solid grounding. Wind, I said, you win.
But first, I must get off this road. Across the river I could see the traffic on Interstate 84, the place I longed to be. About 100 miles down Highway 14, I finally found a place to pull over. I got out and assessed the damage, which just happened to be no damage at all.
Nothing looked like the wind had ripped the seams apart or twisted the metal into tiny wind sculptures. All looked fine. I thought about the tornadoes and hurricanes in the southeast. I thought about the Mississippi flooding. Nothing like that had touched me. I just had a little fight with the wind that produced a big anxiety in me.
I got back into the Starflyte, back onto Highway 14, and followed it to Junction 97. Once on Highway 97, I traveled south to Tumalo State Park, north of Bend, and camped for the night. I woke up to the smell of sage and the sound of the Deschutes River rolling by.
The trail sign warned to bring water if hiking, and watch for cougars. Delighted by the moist, cool air, and the gray boulders everywhere, I thought about how lucky I was to cross a beautiful part of the country in the wind and come out undamaged. Wind, I said, I changed my mind. I'm not done, not yet.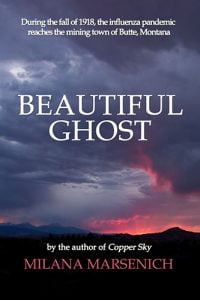 Read the BookTrib review of Beautiful Ghost here.
I first published this story on Medium. You can read it and my other Medium posts here.